At WIN WAREHOUSE, we hold to the hope, the belief, and the conviction that there is a better life – a better world – beyond what exists today. We believe that a mission-minded organization can and will make a difference — today, and in generations to come. We believe that the way we serve inspires that same potential in others all over the world. So, we fix our gaze on things that cannot be seen and work hard to make today a hope-filled vision of what is to come.
Nonprofit Members WIN!
Everyday our Nonprofit Members acquire products and resources they need for dramatically less than retail costs.
Save More. Serve More.
67%-90% savings on the products and resources nonprofits need.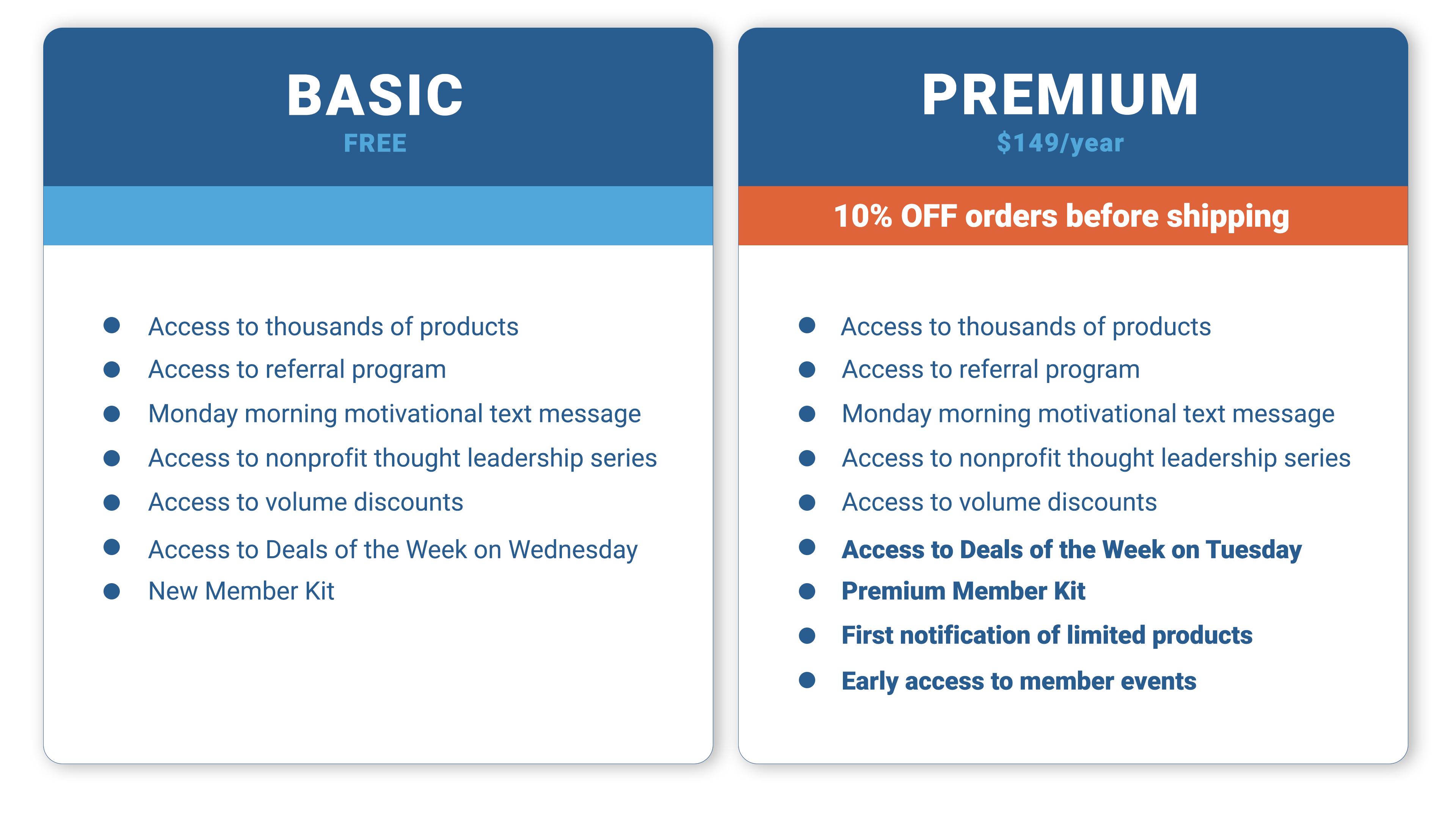 Click the registration button below to get started!
If you would like to learn more about WIN or have any questions, contact our team at membership@winwarehouse.org, 314.385.3006, or check out our FAQs below.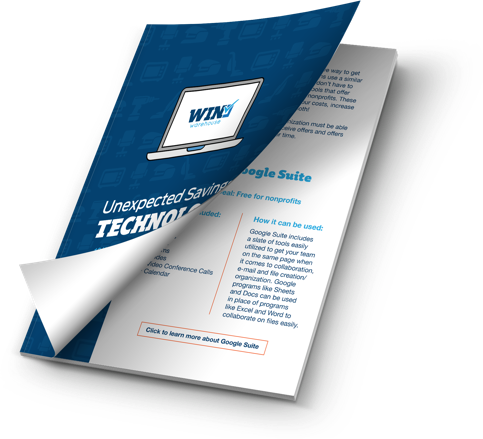 Unexpected Savings: Technology
Learn 10 ways nonprofits can save on IT costs.
How can WIN help my non-profit?
WIN partners with corporate donors to distribute donated products to all kinds of non-profit organizations like schools, churches, charities, support service agencies, first responders, veterans organizations, municipalities, and many more. As a non-profit, we believe that a mission-minded organization can and will make a difference. We believe that the way we serve inspires the same potential in others all over the world.
How do I receive a distribution from WIN's inventory?
The easiest way to receive donated products from WIN is to apply for a membership here. Most non-profit organizations including schools and churches are eligible for membership. As soon as your membership is approved, which in many cases is instantly, you can order products directly from our online catalog and have them as soon as one day.
How soon will I receive our WIN distribution?
Our busy bees at WIN fill most orders within one business day. Larger orders might take longer depending on the scope of the distribution. You can always contact us to get an estimate of how long your order will take to fill. At the checkout screen on our website, you have the option to have your products shipped via UPS Ground or UPS Next Day Air. We also have options for members who prefer to make their own shipping arrangements, or to pick up their orders themselves at our St. Louis warehouse.
How much does a WIN membership cost?
WIN will always offer a free membership to any qualified organization. WIN was founded upon this principle so that organizations of any size or budget to take advantage of donated distributions.
WIN also offers a Premium Membership that contains additional benefits like 10% off of all handling fees and advanced notification of products and special offers. The premium membership is $149 annually, but most of our members make that investment back quickly with the reduced savings.
How long does it take to be approved?
In many cases, your online approval is instant and only requires that you verify your account via email. In cases where we are required to request additional information, it can take up to one business day for approval.
It helps to have your organization's Federal Employment Identification Number (FEIN), along with proper address and contact information. In some cases, we might ask for additional information like your IRS Determination letter. You will also need to have access to the email account you use to register. Of course, you can always contact us for assistance.
How can I verify WIN's non-profit status?
What if I don't have a copy of our IRS Determination Letter or don't know my organization's FEIN?
If you represent a 501(c)3, you can use the search feature on our registration page to find your organization by name or address. The registration process will guide you through your options. Of course, you can always contact us for assistance.
What if I represent a Public School District?
Some of our favorite success stories come from our partnerships with public school districts. The registration process will guide you through your options. You will need your district's FEIN, and billing or purchasing contact. You will also need to provide a signed W-9. Of course, you can always contact us for assistance.
What if I represent an exempt religious organization?
If your church or religious organization filed as a 501(c)3, just follow the 501(c)3 registration process on our website. If you represent an organization not registered as a 501(c)3 that the IRS recognizes as an exempt church or religious organization, you should follow the registration process for 'Independent or Affiliated Church' on our website. The registration process will guide you through your options. You may need to submit proof of your status as an exempt religious organization or evidence of your church affiliation. Of course, you can always contact us for assistance.
What if I represent a Government Agency?
If you represent a Government agency, you should follow the registration process for 'Government Agency' on our website. The registration process will guide you through your options. Be sure to have the correct billing information for your department or agency.  You will also need to provide a signed W-9. You will have to verify that you are authorized to receive materials on behalf of your agency. In some cases, written purchase orders may be required for transactions. Of course, you can always contact us for assistance.
I am an individual or work for an organization or company that is not a registered non-profit. Can I receive products from WIN?
WIN is a 501(c)3 public charity whose mission is to connect non-profit organizations with excess corporate inventory. Because our status as a charity hinges upon this stated purpose, an organization must be a non-profit organization as recognized by the IRS. Individuals requesting distributions of donated materials through WIN must be authorized to receive donated materials on behalf of their organization.
I don't like these new-fangled computer things. Don't you have some old fashioned way to apply for membership?
You will be happy to know that we still embrace 80's technology like a fax machine. Additionally, the USPS does stop by every day, so we are pleased to accommodate your rebellion against technology. If you would like, you can download your registration forms here. You can then fill them out with a fountain pen and either fax or mail them to us. If you don't want to click on the download link, because that would be giving in, then just pick up Ma Bell's telephone machine and give us a call. We would be happy to fax or mail the forms to you.
Why do you charge a handling fee?
Unlike most non-profit organizations, WIN does not engage in fundraising to cover expenses. Instead, WIN charges a small handling fee based on the value of the product. It is always less than one-third of the retail price, and most times much, much lower. You might see that fee referred to as an admin fee or a Shared Management Fee.  It is important to understand that you are not purchasing product from WIN, but rather you are receiving products that have been donated by our corporate partners.
Why do you charge for shipping?
WIN provides some shipping services, like UPS Ground and UPS Next Day Air as a convenience to our non-profit members. The actual shipping costs are passed along to you. If you prefer, you can always make your own transportation arrangements or pick up your order at our St. Louis warehouse.
I would like to order items that require freight shipping (more than 150 lbs). What are my options?
Unfortunately, that's a bit too heavy for any one of us to carry. You'll need an LTL Freight Carrier.
You can use any carrier you'd like. WIN does not directly handle the freight shipping of your distribution, but we can recommend some carriers. We will provide all the information you need to use any third-party shipper. We ask that you coordinate the shipping date and time with us in advance so that we can have your distribution packaged and ready to go. Of course, you can always contact us for assistance.
When will you receive more product?
That's a 'crystal ball' question. WIN is dependent on its corporate donors to send the items which we distribute to excellent non-profit organizations like yours. Some donors send on a regular basis, but some send excess inventory annually or sporadically. Each shipment may not contain items which you have received from WIN in the past, so once an item is no longer in our inventory, it might be gone forever. Because of that, we are not able to 'back order' an item, and maintaining a waiting list is not feasible. You can check this website often to see if we have new items, or better yet, opt in for our weekly email updates. Better, better yet, become a Premium Member, and get email updates before anyone else.
Are the products in your catalog new or used?
WIN receives product from corporate donors for various reasons. Much of the product that is in our catalog is excess inventory. In this case, the products are brand new from the distributor, and usually in their original packaging. We also get product donated because a newer model came out and the seller wants to get the old model off of their shelves. Same deal with those – new and usually in the box. Sometimes WIN gets product donated because the buyer returned it to the distributor but the distributor does not stock the item. Those products may have been sent back for several reasons – primarily because the customer ordered the wrong thing, or the seller shipped the wrong thing. Those items are usually new and in their original packaging. Sometimes that packaging can show wear and tear because it's gone through a couple of rounds of shipping.
On rarer occasions, WIN receives returned items that may be missing a part, have cosmetic damage, or don't function properly. We try to filter out those items that do not work. Others, we might mark as damaged, but we can't catch all of them. We try, though. Keep in mind that since all of our products are donated, WIN cannot guarantee the condition of any item. Please look over the descriptions of the items carefully before you order. Because we strive to find good homes for less than perfect products for a good cause, we strongly advise our members to find a use for products with dings or scratches. If you ever get something from WIN that does not work at all, we will replace it or issue a credit to you for your handling fees. Please see our return policy here.
Are warranties valid on new product from WIN?
We wish. Unfortunately, manufacturers and distributors will not honor warranties on any donated product. Since the product is donated, WIN also does not offer any warranties or guarantees.
What more can you tell us about this [insert product here] that we would like to order?
Probably, not much. We rely on information that our donors give us about the products in our inventory as well as information that is publicly available on the internet. We aren't product experts — we are 'doing good' experts. We'll help in any way we can, but we might not be able to tell you how that widget works.
I like you people at WIN. How can I do something nice for you?
That's sweet of you to ask. We are relationship people. We thrive on the amazing relationships that we make with people like you. The thing that we probably like best are stories about how your membership with WIN has helped your organization to fulfill its mission. We love good stories, and we like to share your stories! You can always leave a testimonial here. We often brag about our non-profit members, and sometimes we like to feature folks in a case study, so others can see the incredible things you are doing in our communities. If you are interested in being a featured member, please contact us.
We also love when you share our story and how we can help nonprofits do more good. When you refer a new member to WIN, you can save 50% off (up to $500)  of your next order. Click here to learn more.
Interested in referring someone to WIN? Click below to learn more about our referral program